FEATURED LISTING
Bal Jagat- Children's World Inc.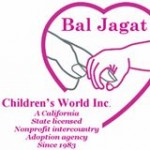 Bal Jagat is a Hindi phrase meaning "Children's World," which represents our dedication to uniting the children of the world with loving parents in permanent homes in the United States. Bal Jagat-Children's World Inc. has been helping people extend their families through international adoption for 35 years. We have played a successful role in the lives of more than 5000 families who have been rewarded by the joy and love of their international children. We are not affiliated with any religion. We are a California State licensed, fully Hague accredited, private, non-profit inter-country adoption agency. Our current Hague accreditation is valid until 2020.
Send Message to listing owner
Bal Jagat- Children's World Inc.