FEATURED LISTING
Berry Law, P.A.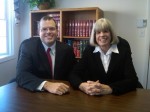 Berry Law, P.A. focuses its practice on adoption and assisted reproduction law.
The firm is managed by Attorney Christopher Berry, with the assistance of Paralegal Emily Pelletier. Adoption legal work includes representation of either birth parents or adoptive families, and completion of second parent, step-parent, relative, agency and identified adoptions.
Additionally, Attorney Christopher Berry practices in all areas of assisted reproduction law, including reviewing and drafting of contracts, donor legal issues, representation of surrogates, gestational carriers or intended parents, the establishment of the desired legal status of parental rights for parents and second parent adoptions.
The practice is statewide, with experience in interstate adoptions, foreign adoptions (including recognition of foreign adoptions and adoption of children from abroad), Indian Child Welfare Act cases, and Interstate Compact for Placement of Children.
Christopher is a fellow in the American Academy of Adoption Attorneys and one of the approximately 100 fellows nationwide in the American Academy of Assisted Reproductive Technology Attorneys.
Christopher has fifteen years of experience as an attorney, and is licensed in Maine and New Hampshire.
 The practice provides confidential legal services in a caring environment, assisting parents who seek to create a family through adoption and/or surrogacy, and helping all families to obtain a legal status which is in the best interest of a child. Christopher strives to meet the needs of the clients and to protect the best interests of children.
Send Message to listing owner
Berry Law, P.A.