Featured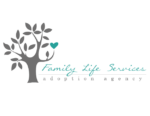 Statement
Family Life Services (FLS) is a licensed adoption agency that provides quality professional adoption services to birth parents, adoptive parents & adoptees with compassion, commitment & integrity. Our domestic infant adoption program offers a variety of options for expectant parents wishing to customize an adoption plan to meet their needs and is available to prospective adoptive families from all over the United States. We are a small agency that strives to provide each expectant parent and prospective adoptive family with direct, personal services throughout their adoption journey.
Our domestic adoption program is designed for Christian couples (who have no more than three children) to have an opportunity to be chosen for an infant adoption placement by birth parents receiving counseling from our agency. Prospective adoptive families must meet the adoption standards of our agency and their state of residence to qualify for infant adoption with FLS. Our desire is to provide education about the adoption process, support to sustain each family throughout the highs and lows of the adoption journey, and opportunities for families to connect with various members of the adoption community.
Additional services available to Virginia residents only include home studies, pre-adoption education, and post-adoption supervision for families completing embryo adoption or domestic adoption through another placement agency or an attorney.
Send Message to listing owner