Golden Surrogacy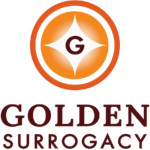 Golden Surrogacy is a reproductive consulting agency, specializing in Gestational Surrogacy. They assist heterosexual and same-sex couples, as well as individuals in becoming parents through the use of a Gestational Carrier. Located in Chicago, IL, this company serves intended parents from all over the United States and internationally abroad from other countries. Gestational Carriers are only recruited from the United States and must reside in a state with favorable surrogacy laws.
Married, same-sex couple Adam and Frank Golden founded the agency in 2013 after the birth of their own daughter through surrogacy a year prior. As Program Director, Frank Golden possesses over 12 years of experience from the customer service industry. He has assembled a team of experts who have 40 years of combined experience in the world of surrogacy, to include psychologists and support coordinators.
Please visit the website for Golden Surrogacy to learn more about the surrogacy process, their staff, and to schedule a free consultation.
Send Message to listing owner
Golden Surrogacy