Start your holiday shopping with these generous holiday merchants.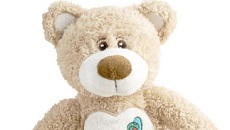 The Jockey Being Family Bear ($10) is an adorable gift that gives back. For each bear sold throughout the year, Jockey will donate $5 to the Jockey Being Family Foundation, which supports post-adoption efforts.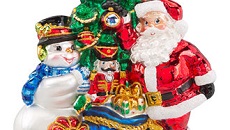 Each year, the Christopher Radko Company creates a special Celebrate Adoption Ornament. Sales benefit the Dave Thomas Foundation for Adoption, which works to increase awareness of foster adoption. This year's hand-blown glass collectible ($50) features a Frosty decorating the Christmas tree and Santa placing gifts from a bag with the Dave Thomas Foundation logo.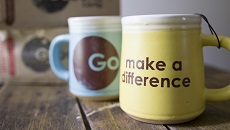 Customize a His and Hers Go Box ($66.99) for your favorite couple with their favorite grind and roast paired with sunny blue and yellow mugs. GoBena Coffee was founded by parents who adopted their daughter from Ethiopia, and named in honor of the elderly couple who found her and brought her to an orphanage in the hope that she would be adopted. 100 percent of profits help children around the world through a partnership with Lifesong for Orphans.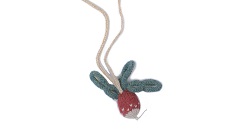 Purchasing this whimsical Radish Necklace ($28) for your little one can help transform the lives of women and children in Bolivia. All of Ouef's alpaca knits are produced by a self-managed community of indigenous women. The living wage they receive guarantees schooling and health care for their families.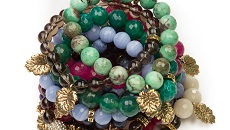 All proceeds from the sales of the Family Tree Bracelet ($50), in smoky quartz, or the Becky Exclusive Bracelets in colors ranging from Turquoise to Fuchsia to Rainbow Pride ($75-$100) benefit HelpUsAdopt, a national nonprofit organization that provides grants to hopeful adoptive parents.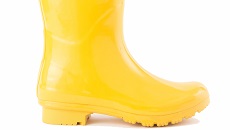 For every pair of Roma rain boots you gift your family and friends, you get two gifts—one dry, happy loved one, and one brand-new pair stuffed with educational supplies given to a child in need. The classic collection ($89) comes in a rainbow of colors and prints. In addition to the donations in kind, 10 percent of all proceeds go to the Roma for All Foundation to help the children break out of poverty and succeed.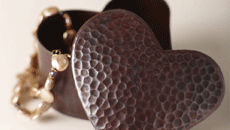 Native Trails donates 20 percent of each sale of their "Share the Love" collection to CASA (Court Appointed Special Advocates for Children), a nationwide network of volunteers who represent the best interests of children in the foster system. The hand-hammered Copper Heart Box ($45) is a perfect place to store keepsakes.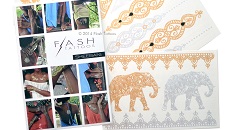 Give the trend-setter on your list the Sheebani metallic temporary tattoo set ($25). Flash Tattoos named the set after the orphan who inspired the creation of The Miracle Foundation, which seeks to revolutionize orphanage care in India, and donates five percent of each purchase to the foundation.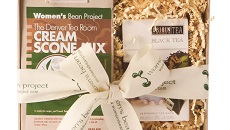 Send an afternoon tea to a loved one with the Tea Time Gift Bundle ($14.95), which includes scone mix and a box of black tea. Each purchase from the Women's Bean Project helps chronically unemployed and impoverished women learn job, interpersonal, and life skills.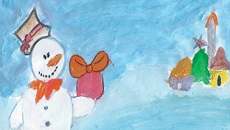 One-hundred percent of the proceeds from the Orphan Artwork Holiday Cards or Gift Tags ($3.95-$15.95), featuring collages and paintings created by Russian orphans, fund camps for the children through Faces of Siberia.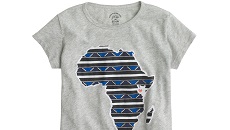 Part of the J. Crew Garments for Good initiative, 50 percent of the retail price of the kids' Africa print t-shirt ($44) benefits St. Ann's Orphanage in Gilgil. The tee is produced in collaboration with Edun, a fashion brand dedicated to promoting fair trade in Africa.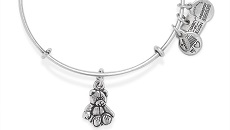 Alex and Ani give 20 percent of each purchase of their Little Brown Bear Bangle ($28) to the Child Mind Institute, an organization dedicated to transforming mental health care for children everywhere.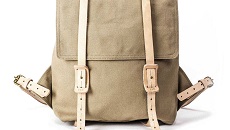 Each sturdy canvas backpack, tote bag, or purse ($65-$195) purchased from Stone & Cloth generates a donation to the Knock Foundation that will cover 25 hours of classroom learning for kids in the developing world.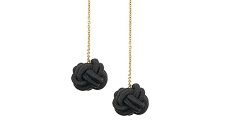 The "Have a Ball" earrings ($50) are hand-crafted by a mother-daughter team, and are perfect for any holiday occasion. A portion of the proceeds from every Knotty Gal purchase are donated to a girls' school in Bangladesh.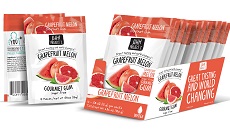 Need something sweet to fill out that stocking? Pick up some of Project 7's mints and gum in flavors from chocolate cinnamon to grapefruit melon (prices vary). Each purchase benefits one of seven causes: feeding the hungry, providing clean drinking water, planting trees, housing the homeless, providing malaria treatment, supporting school education in developing nations, and funding anti-bullying programs.
Previous Year's Gifts that Give Back Picks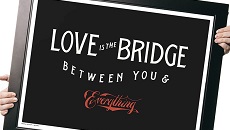 For every item purchased, Sevenly donates $7 to the featured charity at the time of purchase. Past charities have included The Invisible Girl project, dedicated to protecting girls in India at risk of abandonment, and other organizations that help orphans find families. For $15-$24 you can gift a loved one with a print to decorate their home and do good.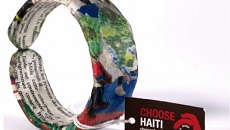 At Blanket America, each item purchased generates a donation to end poverty. Give relatives bedding, or a bangle made from recycled materials that saves the environment, and helps create jobs in Haiti.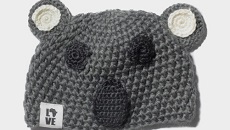 Each hand-crocheted item helps provide a job, education, and mentor to lift women in Uganda and Peru out of poverty and build a sustainable career path for the future. Choose an adorable hat ($17.95 to $25.95) to keep your little one warm—and be sure to check the tag, as each item is signed by the woman who crocheted it.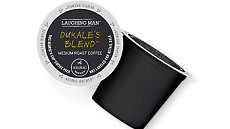 Fifty percent of every purchase from Laughing Man Coffee and Tea (their online store or their coffee shop in downtown New York City) goes back to Laughing Man Worldwide—founded by adoptive father Hugh Jackman to support educational and business development initiatives. For $12.99 for a 16-count box, give friends Dukale's blend coffee to enjoy during the cold months ahead.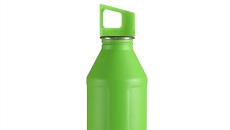 MiiR offers insulated water bottles ($15-$30), growlers ($59), and bicycles ($139-1,395) featuring clean, modern lines in a range of cheerful colors. For each bottle purchased from, one person in need receives clean water. For each bicycle purchased, another is donated.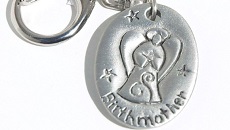 Launched by an adoptive mom, this online store offers sweet cards and gift items, from jewelry to blankets, all celebrating adoption. A percentage of sales supports the Adoption Council of Canada or the Children's Action Network. This keepsake keychain can show a treasured birth mother that she is always in your hearts.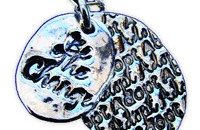 The modern style of Junk Posse Jewelry's sterling silver "Be the Change" necklace ($75) makes for perfect everyday wear. Thirty percent of profits go to the Adoption Exchange, which works with waiting children in the U.S. The designer is an adoptive mom and adoptive grandmother, and her jewelry benefits a range of adoption charities.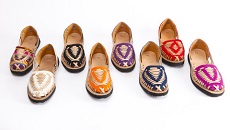 Francesca Kennedy spent her childhood summers swimming in Lake Atitlan. On a visit back home, she saw how polluted the lake had become and witnessed children walking from miles away to collect the contaminated water—and was inspired to found IX (the Mayan word for water) Style. Fifteen percent of the profits from each pair of Woven Leather Huarache Sandals ($89), handcrafted by a women's artisan collective, provides clean drinking water to children in Guatemala through the organization "charity: water."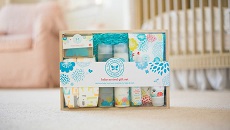 This line of bath, household, and baby products (check out their cute, printed diapers) is all-natural and eco-friendly. The company partners with nonprofits to donate funds, volunteering hours, and Honest products to needy families in the Los Angeles area. Delight your little one with the Baby Arrival Gift Set  ($49.95).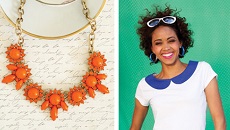 This women-owned and operated business donates a portion of proceeds to The Maya Relief Foundation, whose mission is to empower people with solutions to become self-sufficient and "work their way out of poverty, improve their health, and to insure a better future for their children and their communities. Shabby Apple's clothing and accessories (prices vary) all have a vintage flair.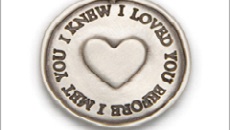 On the front of the handcrafted silver "I Knew I Loved You" medallion ($125 with chain), the words "I knew I loved you before I met you" circle a heart, and artist Julie Booras will personalize the back with your child's name or other short text. The necklace is part of her "Giving Is Good" line, and 25 percent of the sale price is donated to the Dave Thomas Foundation for Adoption.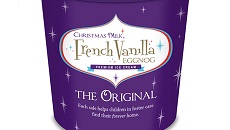 After Heidi and Shane Fausel adopted a nine-year-old boy from foster care, he told them about a drink he'd had once and loved ("It tastes like Christmas"). As their first Christmas together approached, Heidi gave her son a glass of eggnog. He took a sip, jumped up, and shouted, "That's it! It's Christmas milk!" Each sale of their signature eggnog or ice cream, which you can find at your local store, helps children in foster care find forever homes. Either one would make a perfect holiday treat for your own family.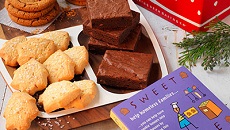 Thirty-five percent of the price of the Sweet Home Winter Holidays Gift Box ($29.99), a delectable package of award-winning baked goods, benefits homeless mothers and their children.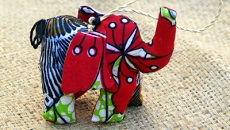 Adding a charming ornament hand-sewn from African textiles– choose from elephants, zebras, giraffes, or rhinos–to your tree this year will help provide care for children in East Africa.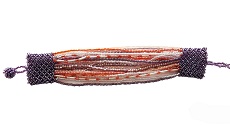 Traditional beadwork meets modern aesthetics in various accessories, handcrafted by skilled Zulu beaders. Proceeds from items like the Summer Swan bracelet ($24) support the Thanda After-School Project, which helps orphans and other vulnerable children in rural South Africa.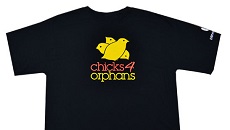 Purchasing the artfully designed Chicks 4 Orphans T-shirt ($20) supports orphans and widows in Zambia. The organization raises day-old chicks for six weeks and sells them in communities devastated by HIV/AIDS.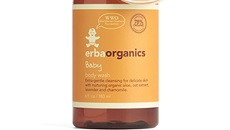 Proceeds from the all-natural beauty line's baby body wash ($13) and baby oil benefit Worldwide Orphans Foundation.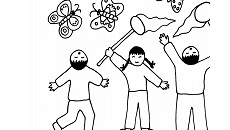 Angel Covers is a volunteer-run organization dedicated to helping orphaned and destitute children around the world. This Folk Painting Coloring Book is the perfect gift for any child, and 100 percent of the proceeds go to support Chinese Orphanages.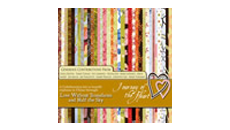 Sales of the Digital Scrapbooking Charity Kit ($10) benefit Love Without Boundaries and Half the Sky, two organizations that work to improve education, medical care, and everyday quality of life for orphaned and impoverished children in China.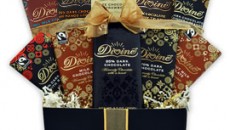 Divine is the only fair trade chocolate company owned by its cocoa farmers. Each purchase directly supports the Kuapa Kokoo farmer's co-op in Ghana. The Divine Classics 10-Bar Gift Set ($38.99 for 10 beautifully packaged bars), with flavors including dark chocolate with raspberries, orange milk chocolate, and white chocolate with strawberries, is the perfect choice for the chocolate lover on your list.