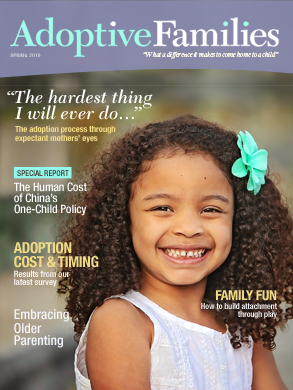 "Adoption Cost & Timing Update" Issue
Open access to this issue courtesy of:

The Spring 2016 issue of Adoptive Families magazine contains expert advice and personal perspectives on:
Adoption cost & timing – the latest data
The adoption process through expectant mothers' eyes
Looking back on China's one-child policy
Attaching through love, hugs, and play
Browse more articles from this issue >
This is a digital issue designed for easy reading on any device — laptop or desktop, tablet or phone.
Already a subscriber? Log in to read this issue.