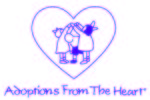 Statement
Founded by an adoptee, Adoptions From The Heart (AFTH) has been a leader in open adoption since 1985 with over 7,200 placements. We proudly serve diverse clients and were named an Innovator by HRC for our services with LGBTQ+ families.
AFTH is a private, 501 C-3 non-profit, full-service adoption agency. With over 35 years of experience, expecting parents and prospective adoptive parents can feel confident in our services. We will walk you through the process and provide support along the way and for years after. In addition to our website www.afth.org, another way to learn more about our agency is through AFTHtv. Each episode highlights a specific experience to give an insider's look at the adoption process from a variety of perspectives.
We offer confidential and judgement free services to expecting and birth parents beginning with options counseling and the ability to explore all their options. Our counselors are there to offer support and empower those who are facing an unplanned pregnancy with choices whether or not they ultimately choose adoption. If they decide to move forward with adoption, expecting parents are able to choose the family and level of openness they desire including picture and letter updates and visits. Our support doesn't end after placement. We continue our relationship through ongoing support groups and contact years after placement.
Contact Adoptions From The Heart to speak with our staff and you will see why we are among the most trusted and respected adoption agencies for Domestic Infant Adoptions.
Send Message to listing owner