An illustrated storybook can pave the way to explaining tough topics, like surrogacy and assisted reproduction, to young children. Read the books during story time, or peruse them for conversation openers and suggested language.
---
THE KANGAROO POUCH By Sarah Phillips Pellet
A kangaroo offers to carry a baby in her pouch for a childless couple. One of the gestational carrier's children narrates this tale.
---
BEFORE YOU WERE BORN By Janice Grimes (15 titles)
In this series, a father (or mother) bear tells his child the story of her beginnings and birth. The simple dialogue, accompanied by scenes of everyday life in the bears' house, helps normalize the discussion.
---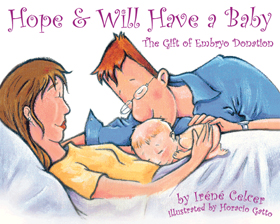 HOPE & WILL WILL HAVE A BABY: THE GIFT OF SURROGACY By Irene Celcer (4 titles)
The books in this series share the same beginning and happy ending. Midway through each book, the author uses straightforward language to explain a different reproductive option.
ART Clinics & Professionals