You have probably heard that play is the work of children. It's how young children make sense of the world. And when they have playthings that reflect themselves and their family, they can better understand their place in it. Here are top picks for diverse dolls and toys, from Adoptive Families editors and readers.
---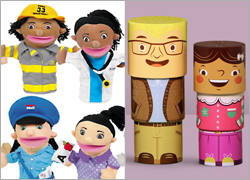 "Lakeshore Learning makes a lot of great multicultural toys. We especially love their puppet sets. [The Let's Talk! Multicultural Puppets set includes children from around the world, while the Let's Talk! Community Helpers Puppets set includes characters like an African-American Police officer and firefighter, a male nurse, and an African-American female doctor.] And MyFamilyBuilders is a magnetic block set that lets children "build" their own individual characters and families." —LISA
---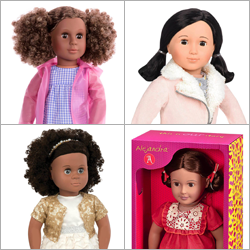 "Our daughter is Hispanic, so we make sure she gets dolls with dark skin and hair. The Our Generation doll line, from Target, offers lots of different looks." —SKYA
[pictured, clockwise from upper left: Denelle, Suyin, Alejandra, Haven]
---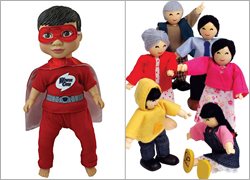 "My son loves the PlayMonster Wonder Crew Superhero Erik doll! [The doll comes with a matching superhero mask and cape for the child to wear.] We also have the Hape Asian Wooden Family Set for his dollhouse." —AUBREY
---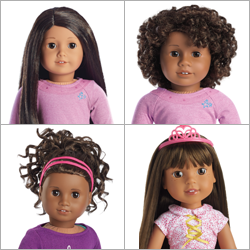 "American Girl dolls—they even come with stories about their heritage [the BeForever line]." —CHRISTINE
American Girl's Truly Me line lets you choose from a range of skin, eye, and hair colors and textures, and the girl of the year for 2017, Gabriela, is African American. [pictured, clockwise from upper left: Truly Me Doll #42, Truly Me Doll #58, WellieWishers Doll "Ashlyn," Girl of the Year Doll Gabriela]
---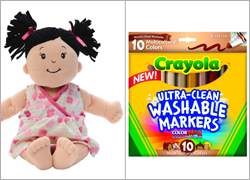 "Although our daughter happens to be Caucasian, we've always bought her dolls with various skin tones, and hair and eye colors. We live in a diverse area and wanted her toys to reflect the people she'd know and be friends with. We had a few Manhattan Toy Baby Stella soft dolls. Also, Crayola makes "Multicultural" markers, crayons, and colored pencils that represent different skin tones. They're hard to find in stores, but worth ordering. I have donated packs to my child's school." —ANDREA
---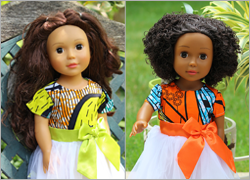 Ikuzi Dolls. According to the creator, Ozi Okara: "Growing up I had many dolls, but unfortunately only one of them was black and it did not look like me. Today, I have been blessed with two beautiful daughters with different skin tones. They were my inspiration to create Ikuzi Dolls because I wanted them to have beautiful black dolls that look like them."
---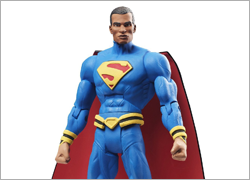 "DC Comics Multiverse Earth 23 Superman. Black and Superman—a double win for my family!" —BRENDA
---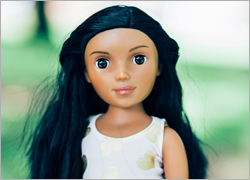 Girls & Co offers an Indian doll, Anjali. The 18-inch doll comes with a book and carrying case. Company founder Neha Chauhan Woodward was inspired to create a line of "modern" dolls with "characters that are smart and ambitious."
---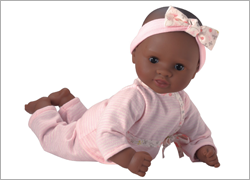 "The Corolle Mon Premier Bebe Calin Naima Baby Doll. My kiddo has been carrying this doll around for more than three years." —JENNIFER
---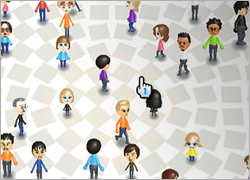 "I set up our Nintendo Wii to make sure there are plenty of characters [Miis] of my child's race in it." —HALEY
---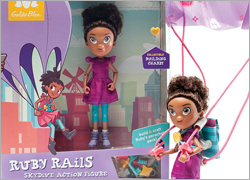 The popular toy GoldieBlox was designed to engage girls in engineering and technology. Goldie's best friend, Ruby Rails, who is African American, is a sky-diving computer programmer.
---
JOIN

You are viewing this exclusive AF content as a guest. To access our full Adoption Parenting Library — plus digital issues, eBooks, expert audio and more — join Adoptive Families today.