As the season winds down and we all try to savor the last of the long, lazy days of summer, we're pleased to present two powerful excerpts from memoirs we think everyone touched by adoption should read.
In God and Jetfire: Confessions of a Birth Mother, Amy Seek recounts her disbelief at discovering she was pregnant, deciding on adoption, choosing a family with the baby's birth father, and her relationship with her son and his family through his preteen years. It's fascinating to be taken inside the matching process from the other side: "The profile was the single tool we had, and yet I found it flawed. I had anticipated a reciprocal process — birth parents and potential adoptive couples each in search of the rare partner with whom they could build something special . . . I wanted particular stories that could tell me what they love and how they break . . . I wanted stripped-bare authenticity," she writes. In the excerpt that follows, Seek describes a visit with her son when he's nine months old.
Postcards from Cookie: A Memoir of Motherhood, Miracles, and a Whole Lot of Mail begins as Caroline Clarke visits her adoption agency seeking any medical history they can provide. After the social worker reads the report, Clarke realizes that she knows her birth family. Her birth mother is the older sister of Clarke's college friend — as well as the sister of Natalie Cole and the daughter of Nat King Cole. Clarke reaches out to her birth mother, Cookie — read their remarkable first phone conversation in the excerpt that follows — and chronicles the heady early days of reunion and the quirky bond they form in the ensuing years through calls, visits, and the postcards Cookie mails "in bunches of three, six, a dozen or more."

God and Jetfire
Confessions of a Birth Mother
by Amy Seek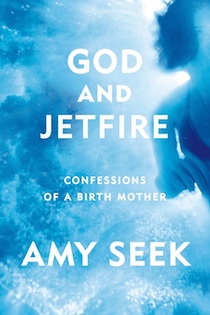 In April, Jonathan was nine months old. The colic had subsided, and he was practicing language that Paula described as "the funniest little combination of mumbling and humming." She said his voice was very much a little boy's voice. He was beginning to balance on wobbly legs and had a full head of bright white hair and a mouthful of baby teeth. She sent pictures of him proudly pouring a pitcher of water over Sarah's head in the tub, his sister's eyes shut tight, laughing. He smiles like the sun, I thought — like the happiness is coming from within him. I realized I had thought of him like the moon…
Excerpted from GOD AND JETFIRE: Confessions of a Birth Mother by Amy Seek. Published by Farrar, Straus and Giroux, LLC. Copyright © 2015 by Amy Seek. All rights reserved.

Postcards from Cookie
A Memoir of Motherhood, Miracles, and a Whole Lot of Mail
by Caroline Clarke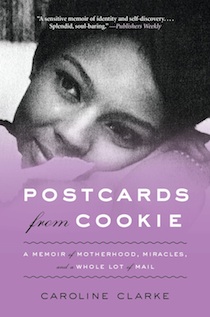 "The Call"
I can think of lots of reasons not to make this call: I should be working. I'm on deadline. I'm not ready.
It's March 18, 2002. I've been staring at the scrap of paper with her number on it for weeks, trying to figure out what to say, how to say it, and whether or not I really want to open this colossal can of worms at all. She gave me life, then gave me away. I thought that was all there was supposed to be, but here I am, preparing to phone my birth mother at her office…
From POSTCARDS FROM COOKIE by Caroline Clarke Copyright © 2014 by Caroline Clarke. Reprinted courtesy of Harper, an imprint of HarperCollins Publishers.