The Martinez Family
"Our story began when my husband and I got married in July of 2005. Two weeks later he left for Iraq and six months later I left for Afghanistan. It was two years before we saw each other again, but one of the things that got me through that long separation was the dream of starting a family. After eight unsuccessful pregnancies, we explored our adoption options, and were accepted by our local foster agency. It was a little challenging, as my husband and I were both still actively serving, but we were determined and got through the paperwork in less than three months. Seven days later we got a call about an emergency placement for six-month-old twins. Two hours after I said yes, they arrived and we were in love. This is our first
family portrait
. Their bibs say, 'My Daddy/My Mommy wears Combat Boots'–and we still have them!" –
April Martinez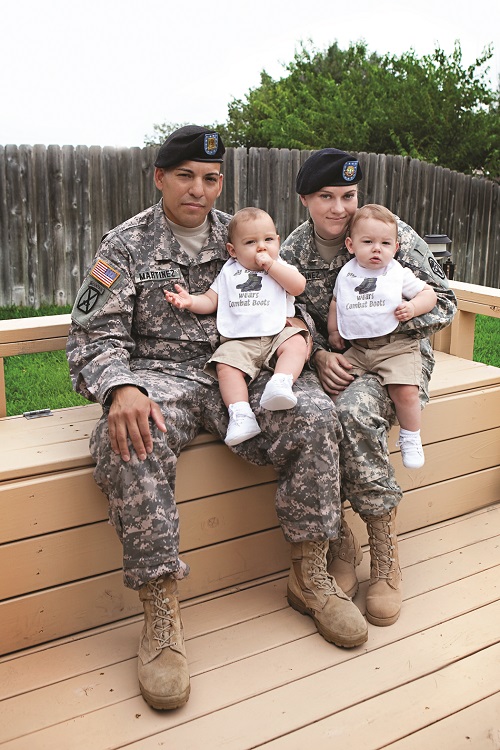 April Martinez and her husband pose with their twins.
---
The Horton Family
"My best friend and I adopted best friends! My friend and I were both fostering to adopt. I had three little girls and my friend got a call about three little girls the exact same ages. I was talking with my daughters' birth mother one day and showed her a picture of all the girls together. She told me that she knew them, that they used to live next door. The girls had been best friends, and still were. We go on vacations, celebrate birthdays, and do everything together." –Amy Horton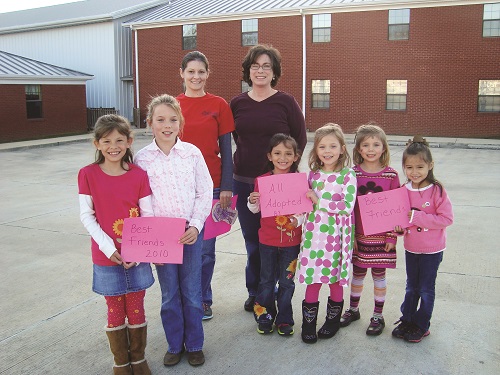 Amy Horton, her best friend, and their six girls pose for a picture together.
---
The Jones Family
"I love this picture my husband took of our daughter sleeping on my chest when she was only six days old. We were staying in a hotel, waiting for our ICPC paperwork to clear. Those first few days were precious times of snuggles and naps together!" –Rebecca Jones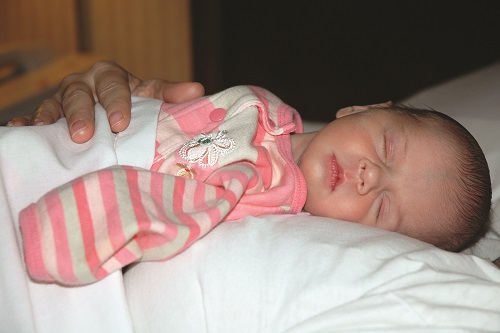 Rebecca Jones' daughter takes a nap with her new mom.
---
The Wismer Family
"I had wanted to adopt since I was a kid. The need is so great in so many places, but we decided on the Democratic Republic of the Congo after reading about its pilot adoption program. Now, we have five children, four of whom are younger than four, and we love our crazy, busy, noisy family. Everybody stares at us when we go outside because we have so many little ones and we don't match in color, but it's clear we're a family, as there are lots of kisses, cuddles, and love." –Inga Wismer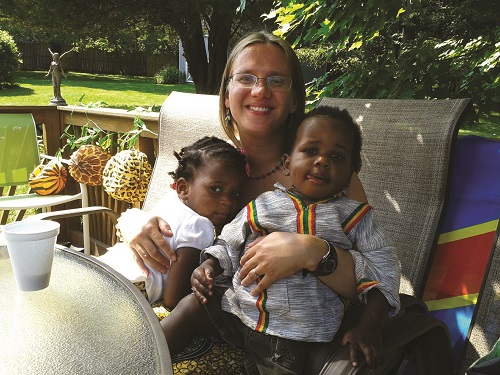 Inga Wismer with two of her children.
---
The Ruzicka Family
"Our son, Owen, was born on Election Day 2012. In February we received a surprise letter from the Obamas, congratulating us on our adoption! As it happens, the day I showed it to Owen was President's Day. He seemed to take reading it very seriously. We took a lot of shots capturing the special memory." –Eric and Tracey Ruzicka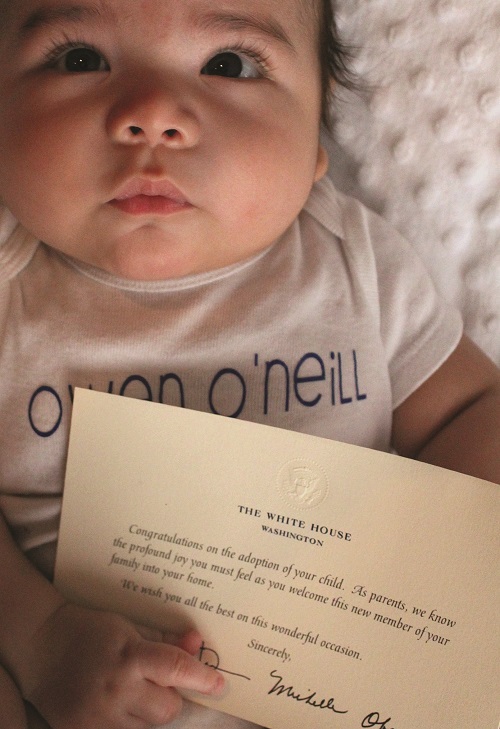 Baby Owen holds the letter he got from President Obama.
---
The Bransby Family
"When my oldest daughter was born, it was not love at first sight but love that had already grown in my heart from the moment her birth mother chose us. Amanda and Kelsey are now 22 and 12 years old, and I can still feel the emotions that welled up inside me each time I learned we'd been chosen to parent." –Carolyn Bransby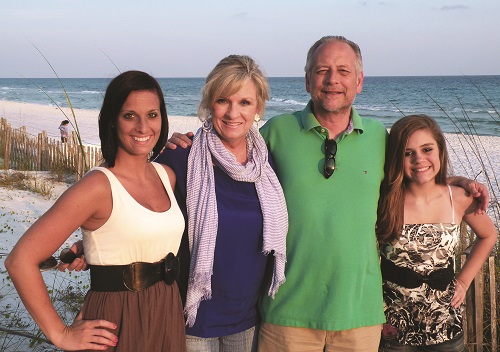 The Bransby family poses together at the beach.
---
The Garlinghouse Family
"Isaiah (1 month, U.S.) came to us at just two days old and has mesmerized his big sisters Andriella (4, U.S.) and Emery (2, U.S., not pictured). Though many people ask us if the kids are 'real' siblings or ask our kids about their 'real' parents, this photo captures the truth: we are a real family, formed beautifully through adoption, and we wouldn't change a thing!" –Rachel Garlinghouse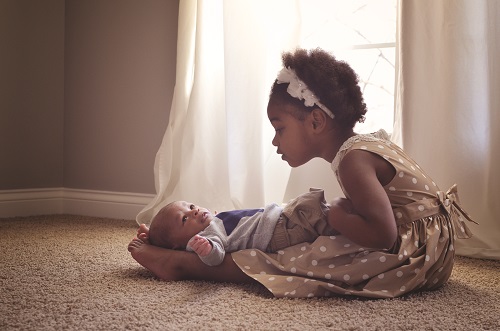 Four-year-old Andriella examines baby Isaiah.
---
The Buth Family
"There is a 10-year, eight-month gap between our youngest boy and our oldest girl, but it works for us. Katie and Ella have taught their big brothers, Joe, Kegan, and Toby, so much about slowing down and enjoying the simple things. It's been wonderful having my boys' busy teen years tempered with a hefty dose of little girl love and joy." –Kelly Buth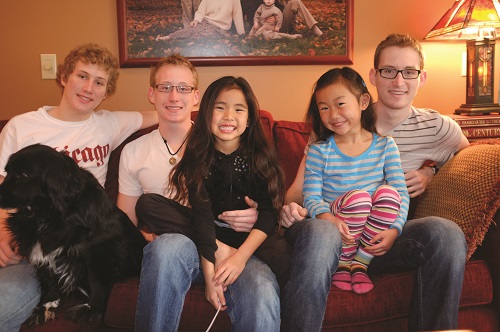 The five Buth children relax on the couch with their dog.
---
The Chorzempa Family
"I wrote this poem for our son's birth mom, Cathy (left), after she chose John and I to be Aiden's parents. Cathy and her extended family have been involved in Aiden's life ever since, and our open adoption continues to be amazing!" –Deb Chorzempa
AMAZING
One day life changes,
It changed for us last week,
For you it changed months ago,
Is it fate that we are meeting now,
To care for a little one who means so much,
To his birth mom he is your life and love,
To us he will be our life and have our love,
This is what we will share for the rest of our lives,
A life that means so much that we all committed to loving him,
This is what a family is and you are part of ours now.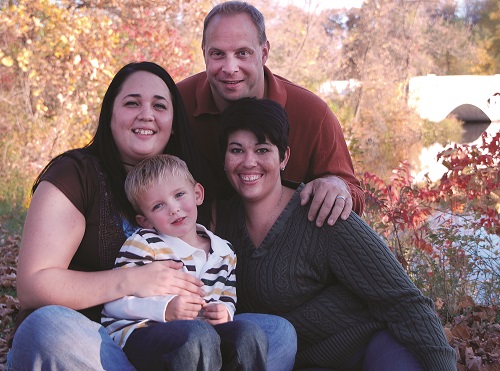 John, Deb, and Aiden Chorzempa with Aiden's birth mom Cathy.
---
The Martin Family
"My three sons know that they 'grew in another lady's tummy.' On our adoption day, we wanted to include her. We gave each child a balloon to keep and one to release 'to the sky for Amanda [not her real name] for letting us grow in her tummy.' We all exclaimed, 'Thanks, Amanda!' and let them go. As my oldest said, maybe she'll be walking to work, waiting for the bus, or crossing the campus at college, see the balloons, 'and smile.'" –The Martins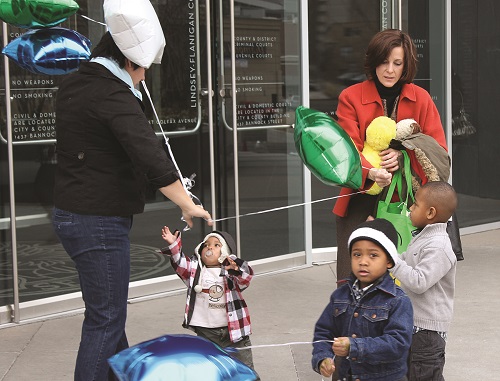 The Martin family gets their balloons ready for release.
---
The Caceres-Small Family
"Our first Mother's Day last year was twice as special, as we are two moms to our amazing son, Dominic, whom we adopted at birth. Ingrid (left) and I waited almost four years to become a family, so we celebrated Mother's Day big time with 14,000 others by walking in Calgary's annual Mother's Day Run and Walk. It was especially touching for us since this race raises funds for neonatal intensive care units (NICU) and we spent 16 days in the NICU with Dominic after he was born. On Mother's Day he was almost six months, healthy as could be, and we beamed as we strolled alongside all the other families on a gorgeous day!" –Kelly Small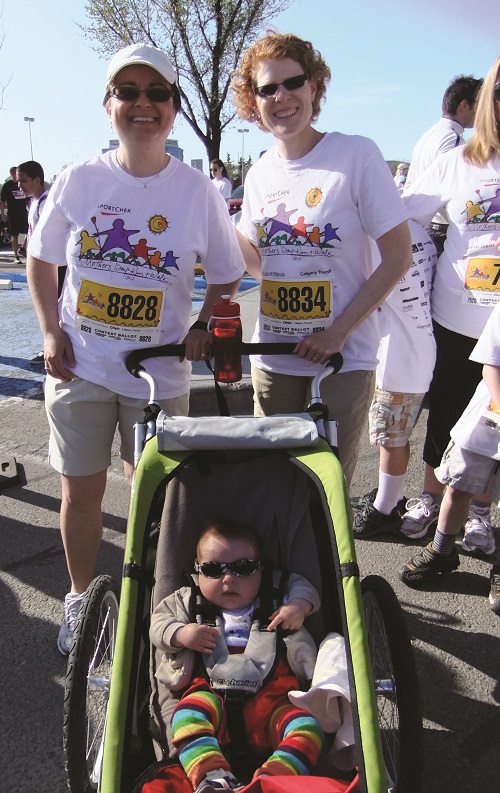 Ingrid, Kelly, and Dominic at Calgary's annual Mother's Day Run and Walk.
---
The Jones Family
"Trent and I were logged in to adopt from China on September 20, 2006–and then the wait began to slow. We kept our application active, but began to pursue domestic adoption. We were able to adopt Alexander in 2008 and Elizabeth in 2010. We finally adopted our daughter, Amelia, from China on December 10, 2012, nearly seven years after we started filling out the paperwork. We don't begrudge the wait; because of it, we became open to domestic adoption, and are now enjoying our adventures as a family of five. Our older kids didn't travel with us, so here's our first complete family photo. –Carrie Jones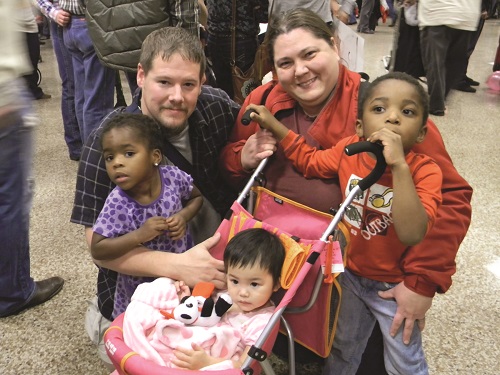 The Jones family pauses for a picture at the airport, with baby Amelia in a stroller.