MEMOIRS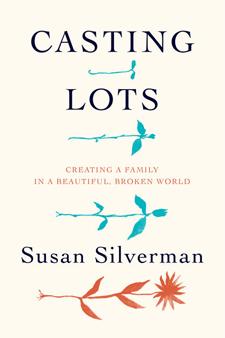 Casting Lots: Creating a Family in a Beautiful, Broken World, by Susan Silverman
Silverman, a rabbi raised in a family of atheists who has affectionately called her sister, the comedian Sarah, the "least funny" one in their family, has written a memoir brimming with humor and heart. She recalls the shock she felt as a child, when her parents began fostering, of realizing that some children didn't have their own family. As the mother of three biological children, she adopted two boys from Ethiopia and makes a passionate case for increasing international adoptions.
---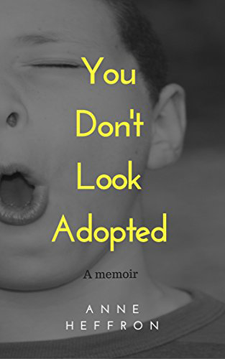 You Don't Look Adopted, by Anne Heffron
Heffron's memoir begins, "Most of my life I have felt both real and not real." The only way to make sense of her story, "to bring the two parts of [herself] together," she reasoned, would be to write it down. We are fortunate that she did. You Don't Look Adopted reads as confidences shared by the author—vignettes that jump from becoming a mother to moments in her childhood to her unsatisfying encounters with her birth mother to meditations on being adopted.
---
The Art of Waiting: On Fertility, Medicine, and Motherhood, by Belle Boggs
"If someone had told me, 'In five years you will have a baby,' I would have been fine to wait those five years," Boggs writes. But infertility is not a "patient, serene kind of waiting." In her memoir-cum-cultural study, she places her personal infertility narrative within a wider landscape of fertility in the animal kingdom, infertile characters in literature and pop culture, ethics surrounding adoption and assisted reproduction, historical attitudes toward infertility and childlessness, and more.
---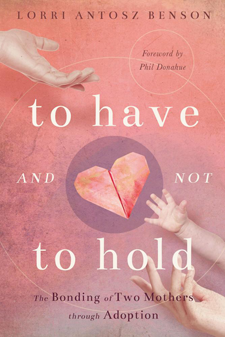 To Have and Not to Hold: The Bonding of Two Mothers Through Adoption, by Lorri Antosz Benson
At age 24, while working as a producer for a national television show, Benson found herself pregnant—and made the agonizing decision to place her daughter for adoption. Years later, she reconnected with her birth child, and formed an unexpectedly close bond with her daughter's adoptive mother. As you read the author's story, you feel as if you're with her on each step of her journey.
---
NOVELS
The Fortunes, by Peter Ho Davies
The Fortunes takes us inside four distinct lives. The first three are based on historical figures, including the first Chinese film star in Hollywood, Anna May Wong. The fourth, John Ling Smith, has grown up at odds with his mother's Chinese heritage, but finds himself in the country for the first time to adopt a baby girl. This absorbing read offers a peak at what it's like to live between cultures, to be seen as a perpetual outsider. Davies, who is biracial, has said that it is "less about Chineseness than it is about Chinese-Americanness."
---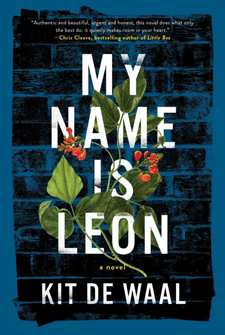 My Name Is Leon, by Kit de Waal
After having a second baby, Leon's mother gives in to depression and addiction, and soon the eight-year-old is taking care of the baby and their mum. Both boys are taken into care—but to different homes. Leon, who is biracial, goes to live with a foster mother, while his half-brother, who is white, is taken by a couple for adoption. This tender novel is told from Leon's perspective, so we see him trying to make sense of the decisions being made for him, the new family he finds himself part of, and the role race plays in his life and his community.
---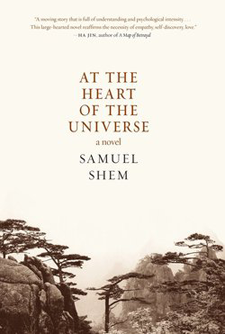 At the Heart of the Universe, by Samuel Shem
Inspired by his own experiences as an adoptive father, Shem's latest novel centers around a girl adopted from China and the parents who love her. In 1991, Xiao Lu is compelled to abandon her infant daughter by the country's One-Child Policy. Ten years later, the girl, Katie, returns to China with her adoptive parents. The four of them come together in a life-changing reunion in a Buddhist monastery.
---
NON-FICTION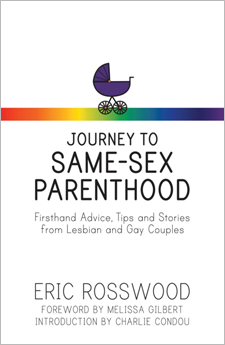 Journey to Same-Sex Parenthood: Firsthand Advice, Tips and Stories from Lesbian and Gay Couples, by Eric Rosswood
Rosswood explores five different ways to become parents as an LGBT couple—domestic and foster adoption, surrogacy and other assisted reproductive technologies, and co-parenting. Each section presents several real families' stories, packed with poignant details practical advice.
---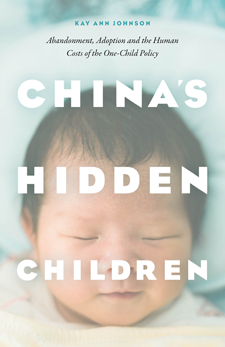 China's Hidden Children: Abandonment, Adoption, and the Human Costs of the One-Child Policy, by Kay Ann Johnson
The years of research and interviews that went into China's Hidden Children, as well also Johnson's personal impetus, as the mother of a daughter adopted from China, are evident. She reveals the heartbreaking human backstory to the 120,000 children adopted since the country instituted its one-child policy; far from unwanted, the separation of each one of those 120,000 children from his or her parents, whether enforced or by choice, was fraught with desperation and fear, and followed by uncertainty and grief. This is a must-read for parents and the thousands of adoptees from China who are growing into teens and adults.
---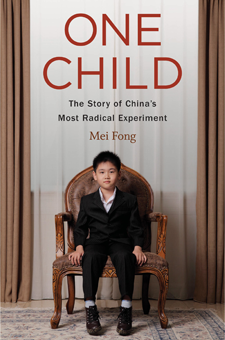 One Child: The Story of China's Most Radical Experiment, by Mei Fong
The first generation born under China's one-child policy have grown up, and, by 2050, it's estimated that one out of four people in China will be older than 65. Fong traveled across the country to meet with people who are living with the repercussions of the policy—from "Little Emperors" who were doted upon as the only child in a family (but often have trouble finding a woman to marry as a grown man) to unauthorized second children to only children supporting aging parents and grandparents. The chapter on adoption paints a particularly bleak picture of thousands of children trafficked to orphanages. A tough, fascinating read.
---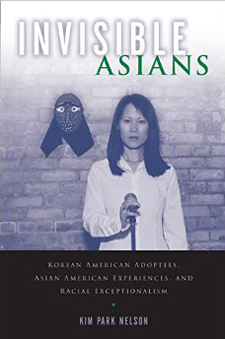 Invisible Asians: Korean American Adoptees, Asian American Experiences, and Racial Exceptionalism, by Kim Park Nelson
Nelson explores the way in which the first large wave of international adoptees were rendered "racially invisible," and the harm that came from the well-meaning "colorblind" attitude parents were advised to take. The author, a professor of multicultural studies who was herself adopted from South Korea as an infant, interviewed more than 60 Korean adoptees for accessible academic work.
---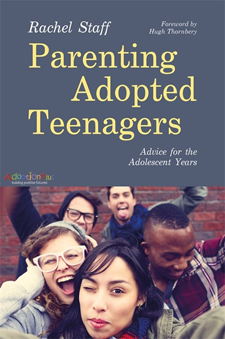 Parenting Adopted Teenagers: Advice for the Adolescent Years, by Rachel Staff
Staff drew on a dozen years of experience as an adoption social worker in compiling this guide. She offers case studies to help understand the root causes of adolescent behaviors, and outlines strategies for responding. A worthy new contribution for this underserved audience.
---
CHILDREN'S BOOKS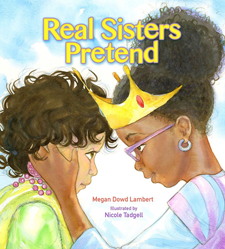 Real Sisters Pretend, by Megan Dowd Lambert; illustrated by Nicole Tadgell
Tayja and Mia love to pretend, scaling the living room sofa as "hiking princesses," but one thing they don't have to pretend to be is sisters. The author shares that this warm story was inspired by two of her own daughters. Asked by a stranger whether they were "real sisters," the girls were baffled. They may not look alike or share the same birth mother, but they are sisters through and through.
---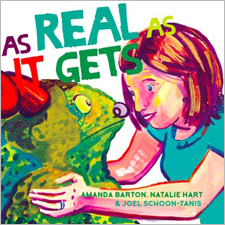 As Real as It Gets, by Amanda Barton; illustrated by Natalie Hart
A young African-American boy feels angry, like a cobra, a T-rex, or like there's a "gas bubble growing inside me," and shouts "You're not my real mother!" His mother, who's white, stays with him as he processes his feelings rather than try to explain them away, and says, "I'm as real as it gets and I'm not giving up, I'm your mother in truth. Your mother. Forever." Vibrant illustrations accompany the reassuring tale.
---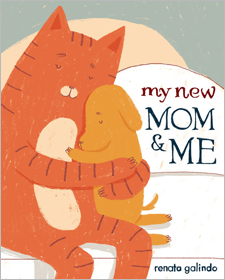 My New Mom & Me, by Renata Galindo
A young dog comes to live with a cat. He is nervous and paints stripes all over himself, trying to be more like his new mom. She reassures him that she likes that he looks different, and that it's OK to feel sad or mad. Soon, he realizes he likes looking different, too, and that his mom is his mom. Charming illustrations perfectly complement this gentle story.
---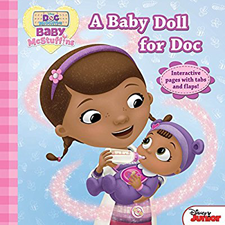 Doc McStuffins: A Baby Doll for Doc, by Sheila Sweeny Higginson
Last year the TV series Doc McStuffins ran a well-done storyline about the McStuffins family adopting a baby. In this companion book, Doc gets a new doll and practices being a babysitter. While it focuses more on taking care of a new baby than the specifics of adoption, this lift-the-flap, pull-the-tab book featuring an African-American girl and her family should be a hit with toddlers and preschoolers.
---
Elliot, by Julie Pearson; illustrated by Manon Gauthier
A young rabbit lives with his mother and father who love him, but have difficulty meeting his needs. A social worker takes Elliot to a foster home. After two more placements, he's adopted by a forever family. There are very few children's books about foster adoption, and Elliot deserves recognition for its portrayal of the birth parents as loving, and for the whimsical illustrations, but it could leave a young child worrying that the child's behavior caused him to be placed in care, or why Elliot's parents couldn't just be offered help to care for him. Parents should pre-read this one and will probably want to adapt some of the language.
---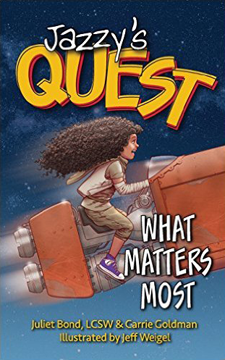 Jazzy's Quest: What Matters Most (vol. 2), by Juliet C. Bond, LCSW, and Carrie Goldman; illustrated by Jeff Weigel
The main character of this engaging middle-grade reader series is a transracial adoptee growing up in an open adoption. In the second installment, a birthday party invitation means Jasmine, or "Jazzy," must choose between a new friend, who was also adopted, and the lure of popularity.
---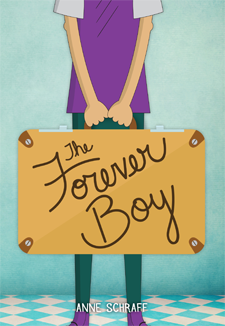 The Forever Boy, by Anne Schraff
Ten-year-old Bruno has lived in five different foster homes. He was happy to leave one home, where the foster parents were abusive, but sad that he always had to leave the others as soon as he started to feel OK. Now he's living with the Browns, his favorite home yet, and he longs to be adopted. Will he get to call them his parents forever?
---
JOIN

You are viewing this exclusive AF content as a guest. To access our full Adoption Parenting Library — plus digital issues, eBooks, expert audio and more — join Adoptive Families today.