Caldecott Honor-winner (and adoptive mom) Molly Bang uses her amazing artistic abilities to interweave the story's text with her vibrant drawings on every page of her latest offering, In My Heart (Little, Brown & Company).
In this story, as Mom goes off to work, she shows us how her child stays in her heart throughout the day. "I look inside my heart, see you sitting there, and Hello Happy! Happy jumps right back in my front door." Her warm words made my heart tingle as I read this to my own children.
It's nice to see a book that doesn't mention adoption, but whose illustrations would clearly lead my child to say, "Look, Mom! He's adopted, like me!" Its not clear whether the child in this book is a boy or a girl, so it was easy for my son to look at his dark skin and proclaim that he was born in Guatemala, too. This story would comfort any child or parent who has a hard time with being apart.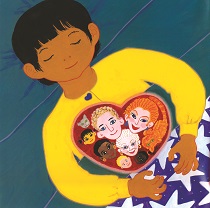 On the last page, which is wordless, Bang's beautiful illustration shows the contents of the child's heart–an eclectic group of special people and pets the child remembers even when they're not together–in varying colors and sizes. As we tried to guess who each person was, my children started talking about all the people who love them and who have a place in their hearts. This naturally led to a conversation about their birth families.
I am a lover of words, so children's books frequently enchant me. The illustrations in this book left me mesmerized. Molly Bang is a wonderful artist! And its so nice to have this reassuring and cozy story on our shelf.