It had been a very uncomfortable two weeks. For 10 days I had lived out of a pop-up camper with my hubby, Phil, and our five-, four-, and two-year-old kids. A pleasant family reunion went downhill as the temperature went uphill, topping off at 100 degrees for two days straight before we finally packed it in and left a day early. The seven hour drive home turned into nine hours, then 10, then 12, as the extreme heat broiled the camper tires until one popped.
At 10:00 p.m. we pulled into our driveway. The kids were as charming as expected after 12 hours in the car and Phil and I wanted nothing more than to pry the necessities loose from the camper and ignore the rest until morning. Wearily, I turned my key in the lock and slumped into the kitchen.
I have since used this precise moment to explain the definition of the word "ominous" to my children. The cord to our Wii was lying across the kitchen floor. A gaming cord in the kitchen? We hadn't left a gaming cord in the kitchen. It felt… ominous. Had someone been in the house?
The answer to that, of course, on this day of the Murphiest of Laws, was yes. It was 11:00 p.m. and my preschoolers were watching TV at the neighbors' house while my husband and I examined the damage with the police. The robbers had broken down a kitchen door, stolen my husband's laptop, pried our new flat-screen TV off the wall, and trashed our bedroom — even throwing over our mattresses. I still take a fiendish delight in knowing that those robbers must have been sorely disappointed by our lack of valuables. All they got was a roll of Chuck-E-Cheese tokens.
We spent the night at my parents. The next day, sans kids for the most part, Phil and I contained the damage and finagled with the insurance. Saturday passed — first night at home since the robbery. Our five-year-old daughter had us check under her bed for "feefs" four times. Sunday passed; the kitchen was full of power tools and loose drywall. Phil's dad, a jack-of-all-trades/African-missionary (really!) would arrive early Monday to replace the kitchen door and patch the walls. I craved Monday. I craved the comfort of a familiar routine.
"Can You Be Ready?"
Monday came. Work begun. Routine established. Relief sighed. Four hours later, I got a call. The insurance? The police? Of course not. That would be too normal. It was Sharon, our adoption social worker.
"So, all I need to know from you is, can you be ready in two days?"
It was noon on Monday. Sharon, wanted us in Indiana, ready to parent a 10-day-old baby girl, on Wednesday. Forty-eight hours! But — Vacation! Robbery! Traumatized Preschoolers!
And, beyond all that, we weren't technically finished with our adoption homestudy. Sure, we'd finished our classes and passed our background checks, but we still needed to have our home visit and our one-on-one counseling session with our social worker. I needed to track down at least one more reference and recreate our adoption profile because the original — an encapsulation of our family's life and times that I painstakingly designed for our prospective birth mom — had been stolen when those pesky robbers nabbed my husband's laptop.
How were we going to cram all of this in to 48 hours? And prepare for a baby when we had thought it would take months to get a placement? And move our family from Illinois to Indiana for a stay of unknown duration so that the two states could finalize their interstate paperwork?
I gripped the phone. I hadn't made a sound. Those words "can you be ready in two days?" hung in the air, awaiting my reply.
"We'll be ready."
That was it. I didn't know how we would do it, but we would do it. After two adoptions and an unexpected biological child in less than five years, our social workers knew us well. I'm an organizer. My husband, Phil, is an improviser. We were made for this challenge. With our first adoption, we'd had seven days notice. With our second, only four. Now, just two. It was as if we'd been training for this moment — like how you steadily decrease your times when training for a race. We were at peak performance. We could handle it, even if the circumstances were, well, let's be euphemistic and say "less than ideal."
Phil, who had been back at work for a whole four hours drove back home and by 5:00, we had rewritten the adoption profile, emailed references to our agency, verified our insurance for the new baby, notified our pediatrician, and arranged for housing in Indiana. By 6:00, we were sitting calmly in our social worker's office answering mundane questions about our parenting style and our philosophy on discipline.
Phil and I can be very efficient when we want to be.
A No-Nonsense Homestudy
The next morning was marked by periodic shrieks of "don't touch that right now, we need to hurry to get ready for Miss Sharon." Oh heavens, I hoped Miss Sharon wouldn't be early! I was losing my cool, and it was the last thing I wanted our social worker to see. Even though I knew by this point — it being the third time around and all — that our social worker was on our team and that she was absolutely not going to judge us on dust bunnies and dirty dishes, I so wanted to have it all together. I wanted to be Super Mom.
For our two previous home visits, the house had been painfully clean, the children scrubbed and smiling. It was a thin, artificial veneer over the chaos that surrounds every young family, but it made me feel good. This time, I couldn't even fake it. The house was full of that lovely post-vacation scrum of suitcases and dirty clothes. There were power tools on my kitchen table and drywall dust stuck to the dirty dishes in my sink. I draped sheets over the debris-filled sink and counter, piled suitcases in my walk-in closet, explained the situation to Sharon, and tried to forget about it.
Sharon, of course, had known us for over five years and wouldn't have been fooled by any of that Super Mom nonsense anyway. She checked the location of our cleaning supplies and medications, made sure we weren't hiding any firearms, and mercifully did not look in the closets. By 2:00, we were officially qualified to be adoptive parents. Again.
That left us 22 hours to prepare for our new baby. I threw a load of baby toys and blankets in the wash and rifled bins of my older daughter's outgrown clothes looking for the smallest newborn sizes I could find. The new baby, whom we named Mia, was only three pounds, 15 ounces at birth, and a lot of this hurry stemmed from the fact that no one expected her to be released from the hospital after only 10 days. But Mia was a feisty one and, now weighing in at a whopping four pounds, five ounces, she was ready to go home. We had to have a home ready for her.
Wednesday, just after lunch, we set off — our minivan a jumble of kids, clothes, and camping gear. My brother had closed on a house in Indiana a couple of weeks before, but we would need to furnish the empty rooms with camp beds and folding chairs while we stayed for a week or more. Since we hadn't actually got around to unpacking the camping stuff from our vacation three days before, we were all set. At least that part was easy.
Moments of Calm with Mia
Meeting Mia, and having all four of our children together for the first time, remains a shining, perfect moment in my life. It was as if I had been holding my breath for two days, or even more, since the robbery maybe. I didn't even know one of us was missing, but now all six of us were together, just as it should be. My whole family, safe and calm together. I could breathe.
The three older children adored Mia and showered the terrifyingly clumsy affections of preschoolers down on her. They looked like Great Danes hovering around a toy poodle. They wouldn't leave her alone, but she was so unbelievably tiny I was afraid they would squash her. "Leave Mia Be" became such a frequent warning that that the new baby was nicknamed "Mia-B" before she had been with us a week.
We'd made it this far, it was now time to take stock of our resources. I had made exactly one trip to the store since we found out about Mia, and I had apparently bought all the wrong things. The words "4lbs 5oz" that I had read on the medical background forms didn't translate to the reality of "4lbs 5oz" in my mind. Four pounds is small. Really, really small. The Size-NB clothes and diapers I had hurriedly thrown into the back of the minivan weren't going to work. We would have to make do with the freebies from the hospital and adoption agency. Two pairs of tiny footie pajamas. A onesie proudly proclaiming "NICU Graduate". Half a package of preemie diapers. It wasn't much of a layette.
We weren't doing that well on the "Baby Must-Haves" checklist that you find on all of those "What to Expect When You're Expecting" websites. It was pretty pathetic, really. Still, after two days of continuous movement just to get to Indiana to pick up the baby, not to mention the two days of burglary clean-up, we were ready to ignore the inconveniences and finally focus on Mia. At least we had what we needed for Day One; we would worry about Day Two when it came. On Day Two we realized that Indiana has Babies-R-Us, just like Illinois does. Imagine that! It was a make-do or do-without kind of situation, and Mia didn't seem to mind, so none of the rest of us did either.
All That We Needed
My brother's house had exactly one piece of real furniture in it — a 30-year-old tan recliner tucked away in the room that would be my niece and nephew's playroom. It had once belonged to my grandmother before winding it's way through the family and ending up in my brother's dorm room.
That one comfy chair, a much-abused former dorm chair, became the focus of our days. Whoever was holding the baby got priority access. My husband and I playfully sparred over feeding Mia, relishing the time with our newborn — and the accompanying benefit of sitting in that one comfy chair. We would evict our older children (they were not immune to the chair's attractions), then snuggle in with our tiny, skinny, nearly-naked baby.
In the evening, after getting our three older kids settled down to sleep on their improvised beds, the "winner" would hold the baby in that comfy chair. The "loser" would pull up a folding chair and hold the laptop so we could watch Arrested Development on Netflix. We slept on camp mattresses on the floor. We cooked in borrowed pots and ate off paper dishes. And, whenever we could, we snuck some cuddles in that one comfortable chair.
Of course, parenting a newborn and three preschoolers in a nearly-empty house is not exactly easy, but even at the time those days seemed very cozy. We couldn't go home. We couldn't go to work. We couldn't stress about the burglary and the repairs and the insurance. We were stuck. We were stuck in a place and a time where there was nothing to do but sit and hold the baby. Maybe it was nothing but "dorm furniture," but that one comfy chair, which periodically overflowed as all six of us tried to sit in it at once, was all that we needed. After a few days, the older kids left to stay with their grandparents for the duration, and it was even cozier with just the three of us. Phil and me, bonding with little Mia…and the comfy chair.
Eventually, we were able to return home. I decorated Mia's nursery, moved in a gliding rocker, and folded a dresser full of preemie clothes. I conquered that "Must-Haves" list in the end. But from experience, I know you don't really need all of those "Must-Haves" in order to have a good start with a baby. You don't need nine months to prepare. You don't even need to have a fully-furnished house. It does, however, help to have a comfy chair.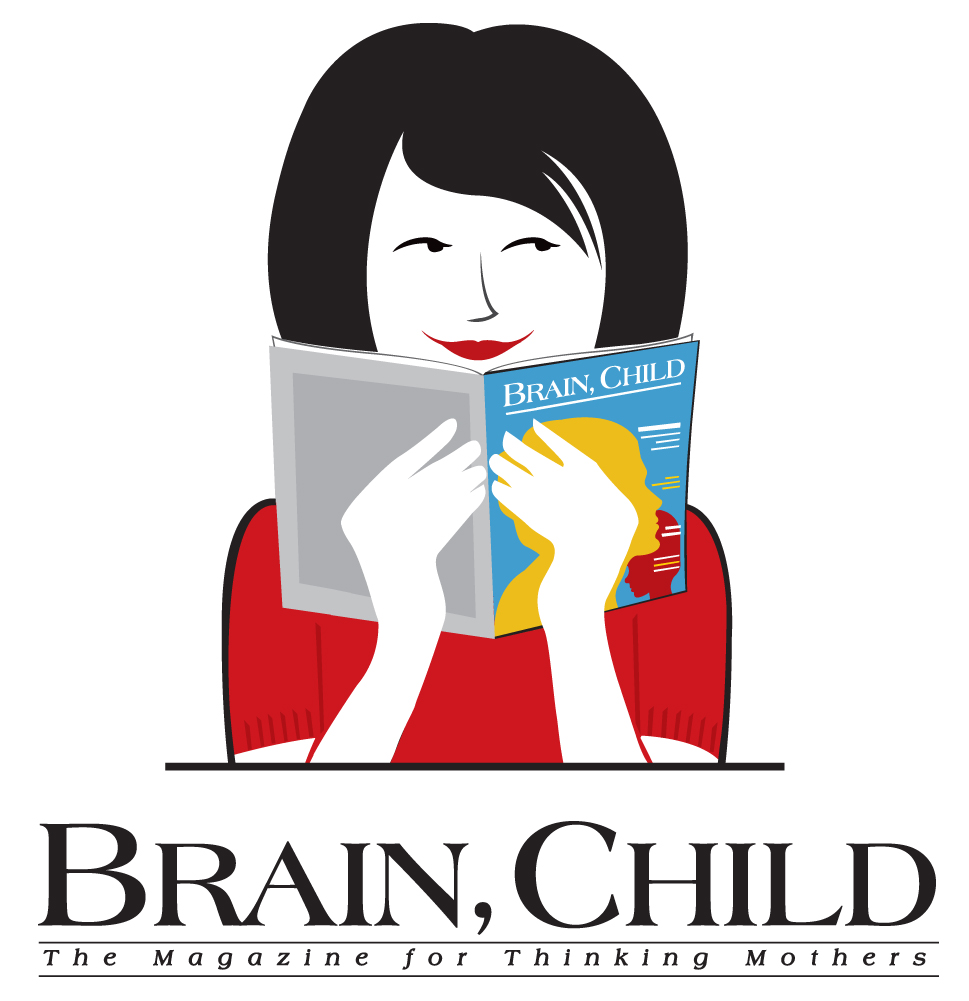 This essay was first published in Brain, Child: The Magazine for Thinking Mothers. All rights reserved.