For more than 30 years, Adoptive Families has helped people find their way to family after infertility. Use our searchable directories of up-to-date adoption and assisted reproductive technology (ART) professional listings below, and get started today!
---
---
Adoption or Infertility Professional?
Add a New Listing
>>

CLICK HERE

to list your agency or practice in the National Infertility & Adoption Directory and reach thousands of AdoptiveFamilies.com visitors each year
Edit Your Existing Listing
>> Go to your

Member Account page

(note: you must be

logged in

to access this page). Scroll down to the section labeled "Your National Infertility & Adoption Directory Listing(s)" and you'll see your active listing(s). Click the "Edit" button to edit your listing(s) at any time.
---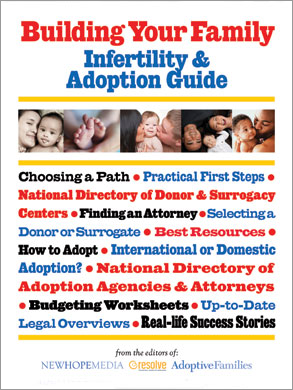 These directories are part of the annual
Building Your Family: Infertility & Adoption Guide
---
*

Use our downloadable worksheets as you interview prospective adoption or assisted reproductive technology professionals to compare them and make your decision.