Advertise on AdoptiveFamilies.com — the Adoption Parenting Library, online resource center, and digital magazine serving a vast audience of pre and post-adoptive families.
In print and online for over 15 years!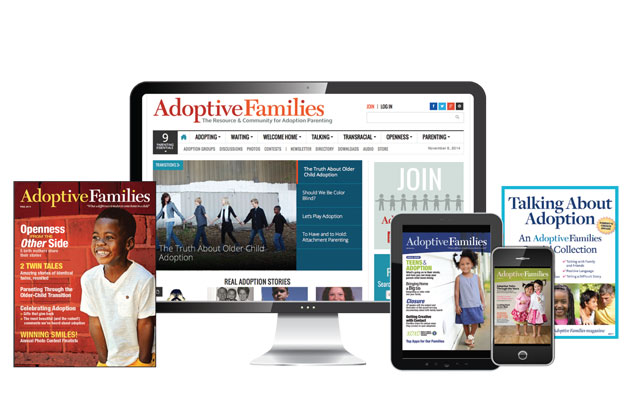 Adoptive Families Magazine
Advertise your practice, service or product in the quarterly digital Adoptive Families, the award-winning magazine teeming with pre-adoption advice and advice for parents of adopted children. Reach a dedicated subscription audience with your color ad — visible on desktop, and optimized for mobile and tablet editions.
AdoptiveFamilies.com
Advertise your practice, service, or product with online banner advertising on AdoptiveFamilies.com. You'll be adjacent to authoritative editorial content including:
Expert Advice: Leading legal and medical authorities outline the specifics of donor, surrogacy, or adoption options
Adoption Topics: Waiting to Adopt, Talking About Adoption, Open Adoption, Transracial Parentig, Heritage and Culture, Parenting, and much more
Personal Stories: Heartwarming essays describing the process and the emotions from parents who've been there
e-Newsletters
Advertise your practice, service, or product in weekly e-newsletters from AdoptiveFamilies.com. Reach 60,000+ e-newsletter subscribers weekly — a highly responsive audience.
Contests
Sponsor one of the popular Adoptive Families photo contests or any contest. Engage tens of thousands of viewers each week through a sponsored contest with your logo in all contest promotions.
Expert Webinars
Sponsor monthly expert webinars, hosted by Adoptive Families magazine. Reach thousands of viewers and readers with each webinar sponsorship. Sponsor's logo and description will be in all webinar promotions through email and online, on the sign-up and thank-you pages. Sponsor's message will introduce each webinar and be in the slide presentation available in perpetuity through our webinar archives.
Integrated Marketing
Optimize and expand your digital reach with a fully integrated advertising program on three pre- and post-adoption websites — AdoptiveFamilies.com, BuildingYourFamily.com, AdoptiveFamiliesCircle.com — in weekly e-newsletters and in the digital issues of Adoptive Families magazine, and online sponsored content, and sponsored webinars.
About Adoptive Families
AdoptiveFamilies.com is the premier adoption parenting website that includes pre-adoption information. It is a responsive website: content, listings, and advertising are all optimized for desktop, mobile, and tablet viewing. The website works seamlessly with BuildingYourFamily.com and AdoptiveFamiliesCircle.com to deliver the most comprehensive information to viewers.
BuildingYourFamily.com is the pre-adoption, website to research all family building options. It is a responsive website: content, listings, and advertising are all optimized for desktop, mobile, and tablet viewing.
AdoptiveFamiliesCircle.com is a community website where people join groups to share and network about adoption at all phases of family building.
Custom Solutions
We'll work with you to create a specialty program, a contest, sponsored content and much more.
Benefit from widespread distribution and national promotion throughout the infertility and adoption universe:
Heavy online promotion via paid search, optimized SEO, and social media
Digital and mobile editions: available in iTunes, Google Play, and the Amazon app stores
Benefit from our communication and partnering with hundreds of adoption agencies, attorneys, professionals, and conferences throughout the year.
Contact us! We'd love to talk about your marketing goals 
and how we can help you achieve them.
New Hope Media, the family health and parenting publisher
108 West 39th St., Suite 805
New York, NY 10018
646-366-0830
[email protected]
DOWNLOAD Adoptive Families' 2020 Media Kit