---
---
TABLE OF CONTENTS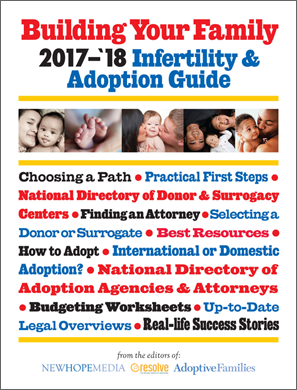 Recent rulings, research, trends, and current events that affect family formation through adoption and assisted reproduction.
---
Considering Adoption
Moms and dads describe the sometimes difficult journey to the family they were meant to have.
Should you pursue adoption to build your family? Look through these overviews of the three main routes, including cost and requirements, to get a preliminary idea of how to adopt and determine the right adoption route for you.
ADVERTISER: America's Christian Credit Union
A general overview of the adoption process: how long it take, what you need to do at each step, and when you'll incur expenses.
ADVERTISER: National Background Check
Adoption Routes in Depth – Guidelines, Cost, Professionals, and More
My attachment is so fierce it takes my breath away | BY JUDY RADAR
Don't be surprised if your mate resists adoption, even as you are embracing it. | BY JILL SMOLOWE
Before my adoption, I worried I couldn't love a child who didn't look like me. Now, my transracial family feels exactly right. | BY JANA WOLFF
While the home study process may seem invasive, remember that the goal is to make sure children are placed in homes where they'll be loved and protected. | BY LUCIA MOSES
Tools and worksheets to lead you through the process, from choosing your route to budgeting to interviewing and hiring an adoption attorney or signing on with an agency.
---
Adoption Options
Adoption in the United States has undergone a seismic shift in the last 40 years. How long will it take for popular perceptions to catch up with the new, healthier reality? | BY ELIZA NEWLIN CARNEY
Thousands of newborns are placed each year through independent adoption. You'll need an experienced attorney to guide your way. | BY MARK T. MCDERMOTT, J.D.
After we placed an advertisement with our adoption profile, the phone started ringing off the hook. Here's what I learned from speaking with expectant mothers. | BY BARBARA HEREL
104,000 children in the U.S. foster-care system are waiting for permanent homes. Could you be the perfect parent to one of them? | BY KATHY LEDESMA, MSW
The emotional risks were daunting. But foster adoption was still the best option for me. | BY ROSEMARY SHULMAN
Every year, thousands of Americans adopt a child from another part of the world. | BY SUSAN FREIVALDS
ADVERTISER: Embraced by Grace
---
Considering ART
ART Options at a Glance
ART Cost Breakdowns
A surrogate can decide to keep the baby? Egg donors are only in it for the money? Read on for the realities that disprove these and other myths.
You've spent endless energy and dollars in your longing to create a family without success. What's next, you wonder: Do I have to give up my dream?
An attorney explains what laws apply when you build your family through assisted reproduction. | BY PETER J. WIERNICKI, ESQ.
Tools and worksheets to lead you through the process, from choosing your route to budgeting to interviewing and hiring an ART attorney or signing on with a clinic or program.
---
ART Options
Egg donation allows women without viable oocytes (eggs before maturation) to experience pregnancy and childbirth. Here's what you should know.
Embryo donation allows parents to carry a pregnancy and give birth to a child who will be theirs, though genetically unrelated. Here's what you should know.
ADVERTISER: National Fertility Support Center
Men are often shocked, and even ashamed, when they learn they will need to use a donor due to male infertility. They needn't be. | BY MARGARET J. VEREB, M.D.
Intended parents share in a gestational carrier's pregnancy closely, and may be able to have a child genetically related to both parents.
What can intended parents ask for and what are the boundaries of the relationship with the woman who will be carrying your baby for nine months? | BY MERYL B. ROSENBERG, ESQ.
---
Personal Essay
The rise of nontraditional families — from LGBT to multiracial to donor-assisted conceptions — led this father to a new definition of "family." | BY NELSON HANDEL
---
Thank You to the Guide's Sponsors:
America's Christian Credit Union
National Background Check
National Fertility Support Center
Nightlight Christian Adoption
A New Arrival
Adoption by Shepherd Care
Adoption Connection
American Academy of Adoption Attorneys & American Academy of Assisted Reproductive Technology Attorneys
Building Arizona Families
Children's Connections, Inc.
Family & Children's Agency
Forever Families Through Adoption
Michael S. Goldstein, Esq.
Northwell Health Fertility
Our Chosen Child
Adoptions from the Heart
Americans for International Aid and Adoption (AIAA)
IAC Center: The Infertility and Adoption Counseling Center
Specially for Children International Travel & Adoption Clinic
Spence-Chapin
Texas Children's Hospital – International Adoption
Dillon International
In On It, by Elisabeth O'Toole
Dr. Jane Aronson