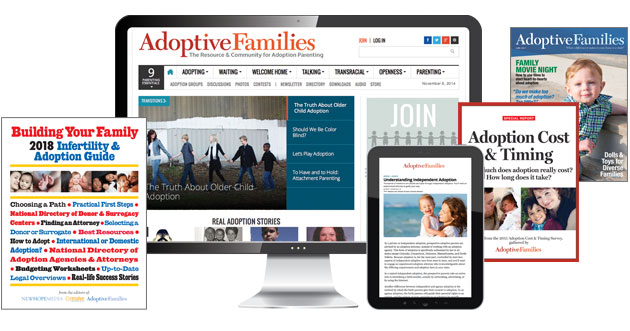 Join Adoptive Families and get INSTANT access to $300 worth of adoption resources, including our annual Building Your Family guide
The Adoptive Families website is packed with trusted expert advice and real-life stories from parents like you. Full membership to our site includes:
The annual Building Your Family Guide – a digital handbook containing the latest updates on adoption, surrogacy, and other routes to parenthood
The complete 

Adoption Parenting Library

 – 15+ years of Adoptive Families' award-winning content

Q&A webinars

 with leading adoption experts, plus full on-demand audio archives

Digital back issues

 of Adoptive Families magazine

Classic Clip & Save articles

, plus new ones as they're released
A vibrant 

online support community

 with active discussions, themed photo contests, and blogs

Weekly e-newsletter
Choose your Adoptive Families membership plan below:
Note that an Individual membership includes 1 account log-in for personal use.
A Professional membership includes 6 account log-ins for use by members of your organization. To learn more about the professional group membership benefits, CLICK HERE.

Level
Price
Adoptive Families - Individual
$19.95 per Year.
Membership expires after 370 Days.
Select
Adoptive Families - Professional
$89.95 per Year.
Select
Adoptive Families - Individual Monthly
$9.95 per Month.
Select
Gift Membership - Individual
$19.95 now.
Select
Want to purchase a gift subscription? Click here or contact our customer service department to help set up your gift membership.