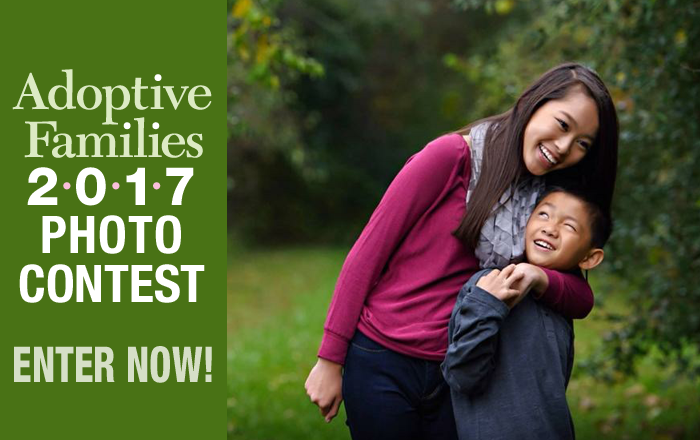 One grand-prize winner of the 2017 Adoptive Families Annual Photo Contest will win a gift card and be featured in the digital magazine, on AdoptiveFamilies.com and AdoptiveFamiliesCircle.com! Eight finalists will be featured on both sites, as well.
You can enter in ONE of two ways:
To print this form, right click to save it to your computer and print from there.
Entries must be postmarked or uploaded by October 7, 2017, so start snapping now—and watch for winners in our e-newsletter and on adoptivefamilies.com.
To print the entry form, click 'Enter by Mail' above, then right click to save the form on your computer and print from there.
By submitting an entry, you agree to the official rules. Because the 2017 Adoptive Families Photo Contest is subject to local, state, and federal regulations, unfortunately, only U.S. residents are permitted to enter. We encourage families living in Canada or other countries to upload their great photos to the Canada Adoptive Families photo album or other themed albums on our online community, adoptivefamiliescircle.com. Throughout the year, we periodically feature photos uploaded to AdoptiveFamiliesCircle in the pages, and on the cover, of Adoptive Families magazine.
---
Be Inspired!
See all the adorable winners and runners-up of past years' contests:
2016 winners | 2015 winners | 2014 winners | 2013 winners | 2012 winners | 2011 winners | 2010 winners | 2009 winners
Check out past winners of specially themed online photo contests organized by AdoptiveFamiliesCircle, AF's online community.
---
Helpful Resource:
Take Your Best Shot: Adoptive parents and photo pros, Ann Keisling and Mark Smith, share their best tips to help you capture precious moments with your kids.